This popular motorcycle brand didn't become what we know it as today overnight. The brand has a long history and overcame many challenges to flourish. Our team at BMW Motorcycles of Jacksonville is excited to share a brief history with you!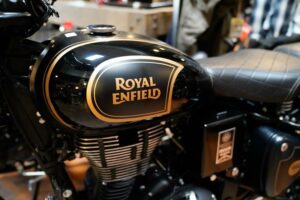 The Beginnings
The first Royal Enfield® motorcycle was produced in 1901. For many years leading up to its production, the company had created a few different motorized designs. In 1900, they entered one of their quadricycles into the very first 1000 Mile Trial to showcase the viability of motorized transportation.
Several years later, in 1909, the company's first V-twin engine was introduced at the Stanley Cycle Show. The design proves to be very successful in competition during the following year.
Presence in War
In 1914, Royal Enfield's first 2-stroke machine went into full production, but the First World War caused the V-twin models to take precedence. The company was able to provide bikes to the British, French, Belgian, Russian, and American armies.
Over the decades leading up to WWII, many advancements were made and several new models were introduced. Between 1939 and 1945, Royal Enfield again supplied large quantities of military models, this time including more than motorcycles. They supply bicycles, generators, and anti-aircraft predictors.
Likely the most famous model to come from their presence in the wars is the 125cc Flying Flea that can be dropped with paratroopers.
Growth in India
In 1955, the Redditch company partnered with Madras Motors to form Enfield India. A factory is built near Madras and manufacturing is able to begin. By the end of 1956, nearly 200 Enfield India Bullets were built.
The Bullet maintained popularity for enthusiasts over several decades, and in 1999 a secondary plant was built in North India.
More and more innovations take place as new models are developed. Another factory was built in 2012, soon followed by a new state-of-the-art retail experience for Royal Enfield fans in 2014.
Established in North America
Royal Enfield did not expand its direct distribution in North America until 2015. Headquartered in Wisconsin, the location became the company's first direct distribution subsidiary outside of India.
Royal Enfield's global reputation in racing and quality continues to break records. More models with more power and safety are released and collectors continue to seek exclusive models. The history of Royal Enfield is remarkable and we are excited to offer a great selection of their products. We are located in Orange Park, FL, and proudly serve the Jacksonville and St. Augustine areas.