The 2022 BMW® sport bikes are ready to deliver adrenaline rushes and unforgettable riding experiences!
These models are built to impress and each one offers unique perks. Keep reading to learn more, then visit BMW Motorcycles of Jacksonville to shop BMW sport bikes for sale. Our dealership is in Orange Park, Florida, and we also serve those in Jacksonville and St. Augustine.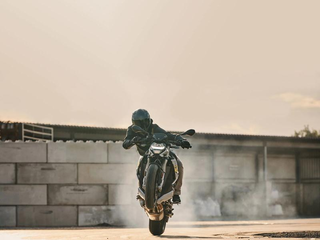 The 2022 M 1000 RR Motorcycle
BMW took the engineering attention it gives to its M cars, then applied it to a motorcycle for the first time! The end result? A powerful beast of a machine.
There are many key advantages of this BMW sport bike, including:
The best BMW brakes to date, which were developed from the WorldSBK racing bikes.
Better stability when cornering thanks to the aerodynamic downforce delivered by the winglets and high windscreen. This aerodynamic downforce also allows the rider to brake and accelerate sooner when cornering.
Better performance due the carbon wheels.
Better agility due to the lightweight full-titanium exhaust system.
Better rider comfort thanks to the longer wheelbase.
Quick rear-wheel changes thanks to the new rear axle and adapted brake piston.
The 2022 S 1000 RR
This BMW sport bike comes ten years after the first generation of the RR model.
There are plenty of exciting updates, including:
New suspension technology and altered frame layout.
Ergonomically-designed seating position.
Modified frame and fairing design.
Front indicators moved to the rearview mirrors from the fairing, which adds visibility and style.
Hollow-drilled titanium intake valves.
But that's only the beginning of the perks!
The four-cylinder engine delivers more torque and power, even in low and medium engine speed ranges. This sport bike is also the first BMW motorcycle with the turn signals, brake lights, and tail lights all in one unit. It's easy to remove this unit when you want to hit the race track. It's also the only superbike with a swing arm on the trussing!
The 2022 R 1250 RS
Thrill seekers will love the features found on this BMW sport bike. Get more torque over the full speed range thanks to the BMW ShiftCam technology. Enjoy the improved aerodynamics found on the redesigned front. Consider the exclusive color option Imperial Blue Metallic to really stand out on the open road. With 136 horsepower and a maximum speed of over 125 miles per hour, this BMW sport bike is ready to impress!
Ready to shop BMW sport bikes for sale? Check out the selection at BMW Motorcycles of Jacksonville. Peruse the available models online or stop by our dealership in Orange Park, Florida. We also proudly serve those in Jacksonville and St. Augustine, Florida.