Before every motorcycle ride, there are certain areas of your bike you should be checking to ensure everything is running smoothly. This can help you catch little problems before they become big problems on the side of the road!
Use the following checklist to keep track of the pre-ride checks you should be making.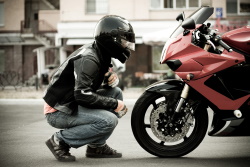 The Lights
Your motorcycle's lights are an important safety feature and you should make sure they're all lit up. You don't want to start off your ride getting a ticket or getting rear-ended at an intersection! Check the lights to ensure they are all bright and no bulbs need to be replaced.
The Motorcycle Tires
You should be looking at your tires before or after every ride – and you should take a more detailed look as frequently as you can. Check your tire pressure and tread for any warping or slow leaks. You don't have to keep your tires immaculately clean at all times, but you can't spot trouble areas easily if they're covered in mud.
The Motorcycle Fluids
Checking your engine fluids should be part of every pre-ride check. Your oil should be translucent and golden brown in appearance. If your oil is dark and sludgy you should change both your oil and oil filter. Check your coolant levels and make sure your radiator cap is secure.
If you are in the market for a motorcycle, head over to BMW Motorcycles of Jacksonville. Our dealership is based in Orange Park, Florida, and we also serve those in Jacksonville and St. Augustine.