Ducati® motorcycles are synonymous with speed. The brand is known around the world for its fast, agile motorcycles. Anyone can enjoy these iconic models, but thrill seekers will especially want to peruse the Ducati model lineup.
Read on to discover some of our favorite models. For more information or top shop Ducati motorcycles for sale, stop by BMW Motorcycles of Jacksonville in Orange Park, Florida. We also proudly serve Jacksonville and St. Augustine, Florida.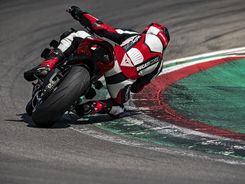 The Superleggera V4
The Superleggera V4 is the most exclusive Ducati motorcycle ever made. With only 500 limited edition models available, you won't want to wait to get your hands on this iconic motorcycle.
The models weigh between 335 and 350 pounds, depending on whether you get the racing kit as well. The carbon fiber frame helps keep this Ducati motorcycle lightweight and incredibly agile. The 998 cc engine delivers between 224 and 234 horsepower, perfect for the race track or riding around town.
The Streetfighter V4
Take the Panigale V4, strip it of its fairings, add a high and wide handlebar, and you get the Streetfighter V4 motorcycle.
This beast of a machine weighs in at 397 pounds and is ready to dominate the open road. Enjoy 208 horsepower, 90.4 lb-ft of torque, and an engine displacement of 1,103 cc. This stripped down and naked bike is still packed full of cutting-edge technology and plenty of power!
The Hypermotard® 950/950S
Tackle tight turns with ease thanks to the many design elements found on this Ducati motorcycle. Wide handlebars, lightweight design, and narrow sides promote exceptional agility.
While cruising around town, riders will enjoy the seat height that allows for feet to rest comfortably on the ground. Take advantage of the Testastretta® 11° engine's 114 horsepower and get ready for unforgettable riding experiences!
The Multistrada 950
This mid-size Ducati motorcycle offers a great balance of features and performance. The touring ability helps ensure comfortable rides, even on the longest road trips. The sports performance helps ensure heart-pounding adventures! The controlled weight and seat height help promote riding ease without sacrificing agility.
This Ducati motorcycle also comes packed with cutting-edge technology. Highlights include Vehicle Hold Control, Cornering ABS, turn signal auto-off, and a hydraulic clutch. All of these perks help ensure maximized comfort and safety in all types of riding conditions.
This is just a sampling of the many exciting Ducati models to consider. For more information on the lineups or to shop Ducati motorcycles for sale, contact the experts at BMW Motorcycles of Jacksonville. Our dealership is located in Orange Park, Florida. We also serve those in St. Augustine and Jacksonville, Florida.