BMW® motorcycles are known for their heart-pumping performance, head-turning style, and cutting-edge technology. Keep reading to learn more about the company's various model lineups. When you are ready to shop BMW motorcycles for sale, visit BMW Motorcycles of Jacksonville. Our dealership is located in Orange Park, Florida, and we also serve those in Jacksonville and St. Augustine.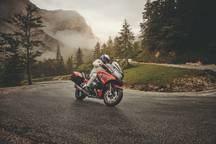 The Naming of BMW® Motorcycles
The first part of the name is a letter that indicates the motorcycle's engine type. For example, "S" for a four-cylinder sport motor and "G" for single cylinder.
The second part of the name is a set of numbers that usually indicates the engine's displacement (in cubic centimeters), but occasionally it's simply a set of random numbers.
The third part of the name is a letter or letters that indicate the motorcycle's purpose. For example, "GT" for sport touring and "B" for bagger.
BMW® Sport Motorcycles
Racing enthusiasts will want to consider BMW sport motorcycles. The design of these models are influenced by professional racing. Enjoy all the features needed to ride your way to victory!
BMW® Tour Motorcycles
Those who love long-distance riding will want to explore these BMW motorcycles. Each model is built to optimize rider comfort. For example, a windscreen helps reduce rider fatigue and boost rider endurance. These BMW motorcycles are perfect for commuting to work or embarking on memorable road trips.
BMW® Roadster Motorcycles
Adrenaline junkies will want to peruse the lineup of BMW Roadster motorcycles. The models offer various perks, such as a low center of gravity that improves handling, a self-reinforcing slipper clutch that makes changing gears easier, or a tank set towards the front to give optimal mass distribution.
BMW® Heritage Motorcycles
These BMW motorcycles are made with a stripped-down retro design. This leads to a stunning style, but that's only the beginning of the perks. Enjoy a lightweight model that delivers exceptional agility and speed. It's also incredibly easy to customize these BMW motorcycles to perfectly match your riding style.
BMW® Adventure Motorcycles
BMW helped create the category of adventure motorcycles back in 1980 with the release of the R80 G/S. Since then, the company has continued pushing limits and forging new trails with their adventure motorcycle lineup. Each BMW adventure motorcycle is primed for an unforgettable riding experience, but with varying power potentials, sizes, and features. Whatever adventure you seek, there is a BMW motorcycle to match!
BMW® Urban Mobility Motorcycles
These scooters are made for convenient long-distant city riding. The lineup includes an electric model that can charge from 0% to 80% in only 65 minutes.
Ready to shop BMW motorcycles for sale? Check out the selection of models at BMW Motorcycles of Jacksonville. Our expert staff is happy to answer questions, provide advice, and help you find the perfect model for your needs. Contact us or stop by our dealership in Orange Park, Florida. We also proudly serve those in Jacksonville and St. Augustine, Florida.