Ducati makes an appealing motorcycle. Sporty, yet sophisticated; raw, yet refined. Many come for its appearance but leave in awe of the performance. You can't go wrong when you choose a Ducati bike.
When looking through the lineup, one can't help but fall into the allure of a Ducati standard motorcycle. Leaner, stripped-down, and inspired by a rich history of competitive racing are some of the traits that come with these models, but there's much more to them. Find out more about Ducati standard motorcycles by learning from BMW Motorcycles of Jacksonville! We can walk you through what it means to own one of these bikes.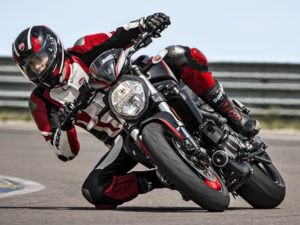 What Is It?
What defines a Ducati standard motorcycle (or naked motorcycle) is its bare-bones design. The genre of naked bikes usually consists of just the essential elements, meaning components like fairings, fenders, and windscreens have often been removed.
As for Ducati naked motorcycles specifically, they are considered sportier versions of the traditional standard class, featuring single-cylinder engines, an agile chassis, and more. However, since they're stripped of unnecessary bulk, Ducati naked motorcycles are typically narrower and more lightweight, which makes them an ideal bike for the racetrack. You often see them in World Superbike competitions due to their speed and agility.
Even as racers, these bikes are great for commuting too. Their style will make heads turn and other bikers envious.
Ducati® Standard Motorcycle Models
Since Ducati naked motorcycles are a type of bike, there are several models that fall under this category. One of the most well-known ones is the Ducati Monster®. The others include some Scrambler® and Diavel® motorcycles. However, they all come with the standard equipment to make your ride distinct, sporty, and memorable.
If you love the company and enjoy letting your competitive nature come through, you'll enjoy Ducati standard motorcycles immensely. Luckily, BMW Motorcycles of Jacksonville has an elite selection for you to browse. Visit us near Jacksonville and St. Augustine, FL today to see our prices!