Used motorcycles can offer many benefits over their newer counterparts. Sure, there is the lower price. But that's only the beginning!
Read on to discover some key advantages of pre-owned motorcycles. Then, visit BMW Motorcycles of Jacksonville to explore used motorcycles for sale. We are based in Orange Park, Florida. We also proudly serve those in Jacksonville and St. Augustine, Florida.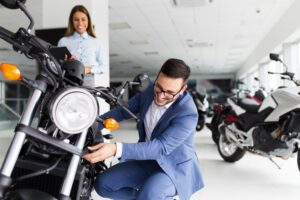 The Lower Cost
Buying a used motorcycle is cheaper than buying a new one. This is because motorcycles begin losing their value as soon as they are purchased.
The biggest loss in value happens during the first year of ownership. Even if you get a motorcycle that has barely been ridden and is only a few years old, you can still save a significant amount of money.
The Increase in Available Information
When you shop for a used motorcycle, you will have more information available to you. That's because used models have been on the market longer and, as a result, there's a greater abundance of customer reviews online. Reading through these reviews can give you valuable insight for your purchase.
For example, maybe people consistently found the seat and handlebar setup of a given bike uncomfortable. If you're looking to commute to work, that model wouldn't be a good fit.
Or maybe people frequently commented on how easy the model is to control. If this is your first motorcycle, that model could be a great match.
It's easier to make an informed purchase when you can read through many first-hand experiences of a given model.
The Increased Choices
A dealership's used motorcycle selection is often larger than their new model selection. After all, only a certain number of new models are released each year. But there are years of used motorcycles available to explore.
Anyone can enjoy a larger selection, but especially those looking for a less common feature. Maybe you want a green color scheme. Maybe you want to bring along a passenger. Maybe you want a windscreen included so you can skip the hassle of installing one yourself. Whatever the case, it's easier to find a match when you have more choices made available to you.
The First-Time Owner Perk
When you are learning to ride a motorcycle, you will make mistakes. This is normal…and often inevitable. Beginner riders often get scrapes, scratches, and dents on their bike. It is much more painful to do this on an expensive, pristine new motorcycle than a used one.
Ready to shop for used motorcycles for sale? Check out the selection at BMW Motorcycles of Jacksonville. See the available models online or at our dealership in Orange Park, Florida. We also proudly serve those in Jacksonville and St. Augustine, Florida.