The "land of flowers" is known for its perennially warm weather, miles of beaches, palm trees and numerous waterways that extend east from the Gulf of Mexico and west from the Atlantic Ocean. This, coupled with its many unique roadside attractions and state parks, makes Florida a beautiful place to travel through, and one of the best ways to do that is via motorcycle.
Motorcyclists living in or visiting Florida will want to take advantage of some of the scenic routes the state has to offer. Your motorcycle and sport bike dealer near Jacksonville is BMW Motorcycles of Jacksonville, located in Orange Park, Florida. We've outlined some of our favorite trips through the Sunshine State below.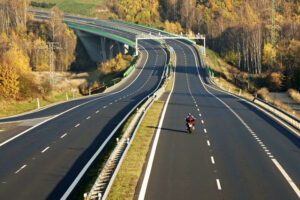 North Tampa Circuit (Land O'Lakes, FL)
This 82-mile route will take you in a large loop that starts and ends in Land O'Lakes, north of Tampa. You'll be surprised at how many ranches you pass, reminiscent more of the Midwest or Great Plains than what we think of as Florida. However, once you see the orange orchards, and particularly catch their scent if the orange blossoms are in bloom, you'll be reminded you're in Florida.
Follow Collier Pkwy to I-75 N for about ten minutes, taking exit 279 to follow Wesley Chapel Blvd to FL-54 W. In Zephyrville, you'll turn left onto Dean Dairy Road, then right at the Circle K onto Elland Blvd, which curves east and north to meet Gall Blvd/US-301. Turn left to follow this road north for about fifteen miles through Dade City.
Turn right onto Trilby Rd/FL-575 N for two miles and follow it as it continues onto Burwell Rd. Make a left onto FL-50 W/Cortez Blvd, circling Ridge Manor, and follow this for about ten miles until you can turn left onto Spring Lake Hwy/County Rd 541.
When you make a right onto Hayman Rd, you'll find it curves west and south past some ranches. Turn left onto Culbreath Rd, which becomes Bellamy Brothers Blvd, and turn right onto FL-52 W after about ten miles. You'll then follow Ehren Cutoff and Parkway Blvd south until it meets up with Collier Pkwy, which you can ride back to the start. This route offers enough twists and turns to keep things interesting during your two-hour journey, with shifting scenery and a number of small towns along the way where you can stop for lunch or gas.
Ozello Trail Ride (Crystal River, FL)
North of Homosassa Springs is West Ozello Trail, a winding two-lane road that will take you through some lush scenery with lots of water views. This short 9-mile course can be ridden one way in about twenty minutes, so you can spend some time relaxing on the beach at Ozello Community Park when you get to its island at the terminus.
If you're coming from the south, take US-98 N/S Suncoast Blvd to its juncture with the West Ozello trail, then turn left to follow the trail to its end. You'll pass through the Crystal River Preserve State Park, crossing the Salt River, and go through Ozello. Plenty of small local restaurants dot this brief route so you have all the dining options you want if you make this a lunchtime ride.
You also have the option of following any number of small side roads to explore the nearby islands and peninsulas. Make sure you're taking all the twists and turns of this route safely!
Casey Key Road (Laurel, FL)
This coastal route along the Gulf of Mexico south of Sarasota will take you past gorgeous houses, several resorts and many beaches. The 11-mile loop begins just across Dona Bay in Nokomis, at the juncture of US-41 and Albee Road West. Follow Albee Road West for a mile as it curves above Lyons Bay and crosses onto Casey Key. Ride this road north for four miles through the residential area that's tucked between the Gulf and Blackburn Bay.
Swing right onto Blackburn Point Road and follow it east for a mile until it meets US-41, which you can then ride south for four miles to your starting point. Easy enough! Take it slowly and give yourself a chance to explore some of the beaches and shops along the way. Blackburn Park is a nice little spot to pull off for a picnic.
We hope you take advantage of some of the scenic routes that Florida has to offer! If you're still in search of the perfect bike or need to gear up, you'll want to visit our dealership. Our Orange Park motorcycle store near Jacksonville carries a large inventory of used motorcycles for sale. We also offer motorcycle repair services so you can get all the maintenance you need for your next ride. BMW Motorcycles of Jacksonville proudly serves the cities of Tallahassee, Orlando, St. Augustine and Gainesville, Florida, as well as Savannah, Georgia, to the north.