BMW has set the standard of what an adventure motorcycle should be. When someone mentions BMW adventure motorcycles, your imagination runs to the wildest terrains that these bikes are built to dominate. Let's take a look at what makes these motorcycles so revolutionary.
When you are ready to get your hands on one, stop by BMW Motorcycles of Jacksonville in Orange Park, FL, to check out some models for sale. We proudly serve all riders coming from Jacksonville and St. Augustine, too!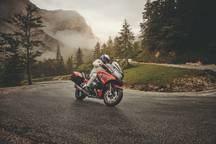 BMW® Adventure Motorcycles Introduced
As BMW became one of the top brands in the business, they wanted to introduce a bike that went beyond every rider's expectations. They went on to engineer a motorcycle that wasn't just limited to just the road—this bike allowed riders to commute, as well as go off road. This led to the introduction of the 1981 BMW R80 G/S, the first-ever adventure motorcycle created by BMW.
Many riders were curious about this new model and some even doubted its capabilities. It became an extremely popular machine that pioneered an entirely new line in the motorcycle market.
What Makes Them Special
BMW has continued to innovate and refine its adventure motorcycles over the years to provide an even greater high-powered performance. Because of this, riders all over the world have become lifelong fans of the brand. BMW adventure motorcycles have gone on to achieve legendary status thanks to their well-made, durable, and enjoyable features that they offer. Although, we must mention that they are not built for everyone. They are for riders who seek reliability, agility, and stability to head on adventurous journeys.
BMW® Adventure Motorcycle Features
Take advantage of all the great features that today's models have to offer. You can rely on their uncompromising long-distance performance features that come with special camshaft profiles and designated manifolds to deliver impressive torque abilities. Whether you're riding around town or to the farthest reaches of the bumpiest trails, you will find total satisfaction when riding a BMW adventure motorcycle.
Ready to shop for some BMW adventure motorcycles? Come on in at BMW Motorcycles of Jacksonville in Orange Park, FL, to view our full selection, including some of the latest models. We also have a wide selection of motorcycle parts so you can depend on us when you need to do any replacements on your bike. If you are near Jacksonville or Augustine, come check us out!