The daily commute can be a drag if you often find yourself stuck in traffic for long stretches of time, cooped up in your car. If you want to add some spice to your life and increase your time on your bike, you should consider commuting by motorcycle instead. Motorcycles are much more agile and able to navigate bad traffic conditions better, cutting down on your commute time while also making it much more enjoyable. To help you prepare your bike for daily riding, BMW Motorcycles of Jacksonville has determined that these are the best items to equip yourself with for a safe and comfortable commute day in and day out.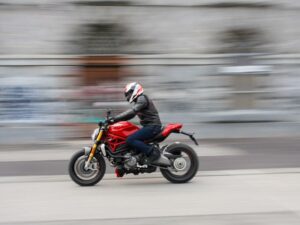 Riding Gear
Inevitably, you'll face adverse weather conditions while you commute. From hot sun bearing down on you and making you sweat through your professional togs to rain that soaks you to the bone, there will always be something to contend with when you're exposed to the elements. You can get all kinds of kit to protect you, from flimsy ponchos to sturdy Gore-Tex gear that shields you from the harshest winds.
While it's a pricey investment, we recommend that you get a good one-piece riding suit. This will not only protect you from the elements and keep you dry and comfortable, but it will spare your clothes from wear and tear on the road. Their seamless design is meant to be water-resistant and ventilated. You can wear a riding suit over your office clothes and step into work looking picture-perfect.
Boots & Gloves
If you don't already have good strong riding boots and gloves, you'll want to obtain these before you start riding every day. Gloves that have shielding on the outside to protect your knuckles are a great idea. Look for gloves that also have insulation to keep your hands warm when it's cold or wet out. There are even gloves with shielding on the palm to help you brace yourself in a crash. Wearing gloves helps you maintain your grip on the handlebars and keeps your hands reasonably clean even if the road is kicking up dust or mud.
Boots with ankle support will let you plant your feet on the road when you stop without wavering. You can look for leather boots or invest in synthetic ones. It doesn't matter what kind of fabric they're made of so long as they are well-constructed and strong enough to withstand tough conditions.
Neck Protection
Despite all the gear you're wearing, your neck will often be left exposed, so you'll want to invest in something to protect yourself from the cold and wet, or from a sunburn. Scarves, collars and bandanas will all work, so long as you tuck any loose ends or fringe away safely and ensure it doesn't catch or tangle on anything.
Top-Side Storage Box
In order to store your riding gear or your laptop or briefcase, you should install a top-side storage box on your motorcycle. These are easy to lock and very secure, and unlike saddlebags, they keep your cargo out of the way and don't add to the bulk of your bike.
Windscreen
Riding long commutes means you will want an upright-posture bike for comfort. A windscreen will help you on particularly long commutes by reducing the amount of wind resistance you feel, which can be taxing on your body as you fight against it. Rainy conditions will cause a lot of spray to be kicked up by vehicles ahead of you, and a windscreen will help protect you from this, too.
In the market for a BMW or Ducati motorcycle? Visit our Jacksonville showroom to see the new and used bikes we have for sale. BMW Motorcycles of Jacksonville serves the cities of Gainesville and Tallahassee, Florida.