You bought your Ducati or BMW motorcycle for its glitz, glam, and luxury. They're the top bikes on the road and now that you have one, it's time to use your ride to let your own style shine. Adding on the exclusive accessories from these companies can help improve your riding experience and do it with some flare.
To help you get started, BMW Motorcycles of Jacksonville has provided a list of the top accessories for your motorcycle, all of which we can hook you up with. Check out our parts store and contact us about installing upgrades. We're open for business, so contact our location in Orange Park, Florida, serving Jacksonville and St. Augustine.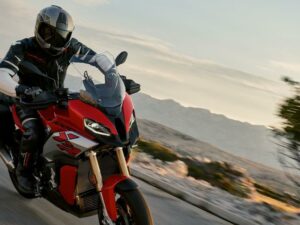 The Seat
Oh the struggle to find comfort on the road. You've probably already spoken to some riders who immediately upgraded their factory seat, and that's certainly not a bad idea. Riding a motorcycle is tiring, especially on the longer trips. Don't make the situation worse by suffering with a seat you don't love.
That's why BMW and Ducati offer more comfortable, custom seats to better suit your body. This can improve your posture and make it easier to ride for longer distances.
There are other ways you can upgrade your seats. Add a backrest so you can settle back into the seat a little easier, or check out passenger seat options for your model. Just make sure your motorcycle is equipped to handle the weight of a second rider.
Storage Options
Speaking of long rides, you'll probably find many reasons to upgrade your storage options. Additional compartments can give you more space to store groceries, emergency supplies, and luggage for those cross-country travels.
That's why BMW offers a plethora of additional storage options and Ducati provides panniers to add to your ride. You can get 13 gallons of space to fit two helmets, camping gear, or anything else you might need for your next ride.
Exhaust
Alright, alright, we'll get to the whole reason you started reading in the first place. The exhaust is without a doubt one of the more popular areas to upgrade on any motorcycle, no matter the manufacturer. Doing this can change performance, efficiency, or just make it sound cooler.
For both names, you'll have a lot of options to choose from. You can replace the entire system for your model, or you can just replace a couple parts. This can be a little more difficult, though. It requires some technical skill to choose the right parts and install them. If you don't have the kind of experience you need for this kind of upgrade, talk to one of our experienced technicians about how we can help you.
Security and Protection
Finally, we know how important your investment is. That's why BMW and Ducati offer security accessories and other protective items to ensure your bike stays safely in your possession.
Check out the alarm systems that will alert you when someone's messing with your ride. Locking systems can also protect your bike from thieves.
Protection can also encompass the accidental tip-over. Engine parts can prevent the most important part of the bike from hitting the pavement.
Even something as simple as a cover can shield your motorcycle from the elements when you're not using it and prevent premature wear and tear.
These are just a handful of ways you can upgrade your BMW or Ducati motorcycle. There are many other ways to upgrade and we're here to help you every step of the way. Contact BMW Motorcycles of Jacksonville about parts you're interested in, or order through our online parts catalog. You can also talk to our staff about how we can help you install these parts at our location in Orange Park, Florida, so call us today! We're happy to help all those from Jacksonville and St. Augustine.