You may know the logistical rules of motorcycle riding in a group, but that's only half the story. There are some additional subtle and unspoken social rules of the road. These are just as important as the logistics, but much harder for new riders to decode. Here at BMW Motorcycles of Jacksonville, we strive to make your life easier. That's why the staff here at our Orange Park dealership have created this guide to group motorcycle riding etiquette.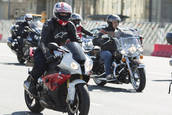 The Ideal Group Size
The mindset of "the more, the merrier" doesn't apply to group motorcycle riding. Yes, you can in theory ride with an unlimited number of people, but more people isn't necessarily better. It can make everything more complicated, from picking your route to picking your dinner spot. The ideal riding group size is about five to seven people. If you really want to bring more, consider breaking up into two different groups that meet at the same destination.
Point to Obstacles
As you ride, you may notice potholes or debris on the road. Alert your fellow riders so they'll have more time to safely navigate around them. This can help reduce flat tires or damage to their motorcycles. It helps if your group agrees on a hand signal for this ahead of time.
Maintain a Consistent Speed
If you are constantly speeding up and slowing down, it can be hard for those behind you to adjust. They'll need to expend extra mental energy to stay focused and adapt to your erratic driving patterns. Shoot for a steady pace to make things easier all around.
Show Up on Time
Don't be the person that holds up the group! Pack the night before, set extra alarms, do whatever you need to be to get there on time (or, even better, early). You don't want to be responsible for the group getting a late start (or worse, they leave without you).
Traffic Lights
You may have enough time to make it through the yellow light. But can the whole group fit through the light before it turns red? Try as much as possible to avoid leaving someone behind. If your group is inevitably going to get separated, try to make sure there are a few riders left behind. It'll be easier for a group to avoid getting lost than one solo rider.
Prepare Your Motorcycle
Make sure your motorcycle is ready for the journey. Conduct a pre-ride inspection so that you can catch any red flags in the safety of your own driveway rather than on the highway. Check that you have enough fluids, good tire tread, the correct tire pressure levels, and so on. Get any potential issues fixed before your big trip.
Get the Group on the Same Page
You'll want to embark on your journey knowing every rider is on the same page. Everyone should be clear on the touring route you are taking. Decide upon hand signals for different phrases such as, "I need a break" and "Obstacle ahead." Pick a riding formation. Assign a lead rider (the person in front) and the sweep rider (the person in back). The lead rider is responsible for keeping the group informed of what's coming next, such as obstacles or traffic. The sweep rider is responsible for setting the pace.
It's important that everyone knows what to expect on your motorcycle ride. You can even make an event of it and get dinner or grab drinks together to do your planning. It'll be a fun mini-adventure before the real one.
Check Your Mirrors
Throughout your motorcycle ride, you'll want to check on the riders behind you to make sure they aren't falling behind. If you notice them trailing farther and farther behind, adjust your riding speed accordingly. You don't want anyone to be left behind.
Adapt to the Least Experienced Rider
When you ride in a group, it's inevitable that there will be varying levels of experience. Some riders will simply be more experienced than others. It's common courtesy to adapt to the speed and skills of the newest rider. It may be annoying to go slower than you would like or to take more breaks, but patience and adaptability are important aspects of group riding. Remember that you were at that level once and that you now have the ability to show your friend some great tips and tricks while enjoying their company!
We hope you found our guide helpful. Still in search of your dream bike? Visit our Orange Park dealership today to check out our inventory of new and used motorcycles for sale. BMW Motorcycles of Jacksonville proudly serves the cities of Tallahassee, Orlando, and St. Augustine, Florida.