BMW is a brand built on innovation, record shatterings, and effortless style. From humble begins, it built itself into the industry giant we know today. Read on to discover the engaging history of this vehicle company. When you are ready to see some BMW motorcycles in person, take a trip to BMW Motorcycles of Jacksonville in Jacksonville, Florida.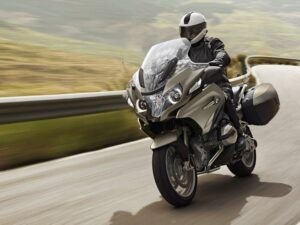 The Beginning
The branch of BMW that creates motorcycles is called BMW Motorrad. The core engineer behind BMW Motorrad was Max Fritz, who joined the company on January 2, 1917. When the treaty of Versailles later banned aircraft and aircraft engines, Fritz began focusing solely on motorcycle creation. His innovation was the flat twin "boxer" engine. This revolutionary new design still has core components used today in BMW's boxer series.
The engine got its world premier in 1923 at the Berlin Automobile Show. It was in the R 32, whose perks included safe handling, easy maintenance, and high reliability. It quickly became a crowd favorite and eventually sold for higher prices than competitors' models.
Winning Victories and Breaking Records
A later model, called the R 37, leapt onto the professional racing scene. It offered twice the power of the R 32, an impressive jump in a few short years. From 1924 to 1929, a BMW motorcycle rode to victory in all German Championships for the 500 ccm category.
But winning these races weren't enough for ambitious BMW bike riders. A rider named Ernst Henne set out to break the absolute speed record. On September 19th, 1929, he shattered the world record by 10 kph with his speed of 216 kph.
Later, he set out to conquer it again. This time, he used the new 500 ccm compressor machine. He reached top speeds of 279.5 kph. He achieved this record on November 28th, 1937. It held for fourteen years.
Back in the racing world, the 65 bhp BMW compressor machine shook things up. Georg Meier won the European Championship during his first season in 1938. The following year, he became the first non-Briton riding a foreign bike to capture the Senior Tourist Trophy.
New Beginnings
The R 24 was the first post-war BMW motorcycle created. The inventors had to obtain a license from the Allies, which only allowed a single-cylinder bike limited to 250 ccm. It sold almost 30,000 in two years.
BMW Motorrad continued developing and improving their bikes. They unleashed the BMW RS model in 1954. It reached top speeds of 200 kph. Riders around the world rode this bike to victory. BMW bikes won 19 world championships by 1974. From the years of 1955 to 1974, every brand world championships belonged to BMW.
New Standards
Each year, innovators worked at improving the bikes. But they just couldn't exceed the capacity limit of 750 ccm. Then a 50 year boundary was destroyed with the R 90 S. Released in 1973, it hit 898 ccm. Its sporty flair made it a style icon.
New innovations followed over the years. In 1987, the BMW paralever system was released. In 1988, BMW became the first to unleash an electronic-hydraulic anti-lock system for bikes. In 1988, it also unveiled the first motorcycle with digital engine electronics.
Over the years, BMW continued developing their bikes and reaching milestones. They produced their 1,000,000th motorcycle in 1991. They broke a record in 1999 for total number of bikes sold: 65,186. With the start of the new millennium, designers focused on reducing the environmental impact of bikes and improving bike safety. It's exciting to imagine what the next years have in store!
Ready to check out BMW motorcycles in person? Visit BMW Motorcycles of Jacksonville in Jacksonville, Florida. We offer a wide selection of new and used motorcycles.