The most fun part of owning a motorcycle is obviously riding it whenever and wherever you please. But to be able to have that freedom requires that you put in the work to keep your motorcycle in peak condition. One of the ways you can do that is by washing it regularly to prevent grime from building up and gunking up the working parts. A thorough cleaning also makes your bike look better and feel better to ride, and it gives you a chance to get up close and personal to locate any potential repairs you may need.
If you're not sure where to begin when it comes to properly washing your motorcycle, don't worry! As your Orange Park BMW motorcycle dealership, BMW Motorcycles of Jacksonville has detailed our top strategies for washing your motorcycle below. We hope this helps you get your machine clean and shiny so it turns heads the next time you ride!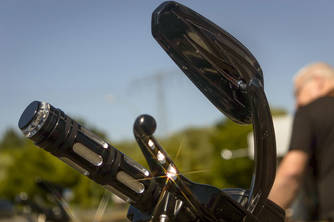 Gather Supplies
First, you should collect everything you need all in one place. Determine whether you're going to wash your motorcycle in your shed or garage with a drain or outside on the driveway. Make sure that you aren't doing it on your lawn where the suds and dirt could destroy plants. You want a space that's well-lit (though ideally not in direct sunlight that could cause a streaky finish) and not cramped so you can easily move around your bike. Also, don't wash your bike right after you ride it — you'll want to let it cool down first.
Gather together your hose hooked up to fresh water, sponges, brushes, flannels and chamois cloths and a good motorcycle-friendly soap. Determine whether you'll need any extra items like a tire polish or a chrome cleaner. Be certain that every product you use won't do any damage to your bike.
Rinse Thoroughly
Before you start this next step, take a minute to plug up the exhaust pipe with a rag or glove to prevent water from entering it. Now you can apply a spray-on motorcycle cleaner to your dry machine and let it sit for a few minutes to work any grime loose, whether it's mud or dead insects. Then rinse your bike with a standard-pressure hose that won't knock it over with sheer force or do any damage to its exterior.
Add Soap
Now you can really get down to business with a soaped-up sponge to detail-clean your entire bike. Start at the top and work downwards so you won't have to go over anything twice. Rinse your sponge often so it doesn't end up making things more dirty with time, and keep your wash bucket water reasonably clean. Try not to get soap or water on the chains or brakes, although this may be an impossible task. If you do, just make sure not to scrub these areas.
Let It Dry
Immediately rinse off your bike once you're done with the suds so that the soap can't dry and leave a residue. Dry your bike as quickly as you can, using compressed air for detail areas or a fan or leaf blower. Riding your bike to dry it might seem like a quick and fun fix, but you probably won't get it as dry as you like and you may end up with dirt sticking to the wet surfaces. You want to make sure that your bike is completely dry so that it doesn't corrode with leftover moisture, particularly in its inner workings.
Final Touches
Now you can apply any necessary finishing touches, including lubricant on your chains. A good wax or polish can help protect your bike's exterior and keep it clean for longer. This process can be its own separate endeavor, though, so you will only want to attempt it if you're already a pro.
Seeking used motorcycles for sale near Jacksonville? Visit BMW Motorcycles of Jacksonville in Orange Park to check out our full inventory of new and used bikes. We have a great selection of Ducati motorcycles for sale, too! Our dealership proudly serves the cities of Tallahassee, Orlando, St. Augustine and Gainesville, Florida, as well as nearby Savannah, Georgia, to the north.