There's something special that happens when you combine the thrilling power of a BMW motorcycle with the vast network of interstates and back roads that crisscross America. You get long distance riding at its best. See the sites, cross from sea to shining sea, or simply hit a local loop all your pals have been talking about. Strap on your riding leathers, pump your favorite tunes, and get ready for the ride of your life! At BMW Motorcycles of Jacksonville, we think there isn't much better as a motorcycle rider than hitting the open road for some touring. That's why we've put together this short guide with some tips to making the most out of your adventure. Read on for more information or head into our showroom in Orange Park, Florida, near Jacksonville, Gainesville, and Tallahassee.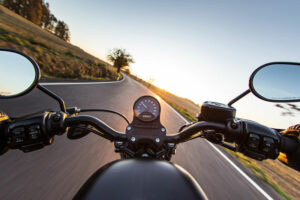 Plan Your Route
While the mystique of the wandering rider is certainly appealing, it's a whole lot better to know where you're going and how you're getting there. Even a rough itinerary can help you hit your mileage and time goals. Otherwise you might find yourself sputtering around, looking for a missed exit or otherwise getting lost. Start with where you want to go then figure a route that connects each stop. You'll want to make room for resting, refuels, and maybe a bit of extra exploration. This is also a good time to reserve or book any food, camping, or other lodging you'll need on the road. It doesn't do to get to where you want to go only to learn that you needed to reserve space in advance!
Cargo Concerns
Motorcycles aren't known for their expansive cargo space, and even touring bikes (with their extra saddlebags and luggage racks) have a hard time fitting everything you might want to bring with on a long distance trip. Stick to essentials when starting out, making sure to get things like clothing, toiletries (for overnight adventure), and medications. Then you can go to the less than necessary stuff. A packing list can keep things organized and under control. Also consider including a tool kit and first aid kit so you can patch up your bike and your own body! Consider upgrading your bike's storage capacity if you can't make room for everything you need. After everything is on board, test your cargo to make sure it's secured and nothing will get loose on the road.
Pre-Ride Check
A pre-ride check is a great routine to get in the habit of, since any preventative maintenance will help keep your bike running for miles to come. It's especially important to check your bike out before a longer ride, since it's more likely you'll find yourself further away from home when something goes wrong. Some components to include on your check: tire pressure and integrity, engine oil and filter, chains and belts, brake pads and fluid, and generally functioning electronics.
Hygiene on the Road
Anyone who's been stuck eating and sleeping poorly while traveling will understand the difficulties of keeping hygienic. Without enough rest and energy, your focus will be adversely affected, which can in turn lead to an accident. Learning to take care of your bodily needs on the road will help you feel good and stay alert in the saddle. Start with the obvious: food and drink. Avoid the siren's song of fast food and greasy spoon diners. They're a fun treat and distraction from the everyday, but if you've got miles ahead of you, that chicken fried steak is only going to make things difficult in the hours to come. Bring along some healthier snacks to keep you satisfied and pack plenty of water to stay hydrated. Don't rely on junk food to fuel your adventure! Proper sleep is important as well, since even mild sleep deprivation can impact your driving abilities as much as alcohol consumption. Another consideration is some hearing protection, as your helmet will actually increase the level of sound.
Hopefully a few of these tips will make your long distance motorcycle ride as good as it can be. If you're after more long distance riding tips, or you'd just like to take a look at some awesome BMW motorcycles ready to hit the long road, head into our location in Orange Park, Florida, near Jacksonville, Gainesville, and Tallahassee.