Taking a corner on a motorcycle can be fun and challenging, but it can also be dangerous. It's important to know a few tips and tricks to turning a corner quickly and safely, and recovering from the corner with skill and composure. At BMW Motorcycles of Jacksonville, we've created this handy guide to cornering on your motorcycle that should help you understand the dynamics at play. If you have any questions, need new gear or a new bike, come visit our dealership, and we'll be happy to help you. We're conveniently located in Orange Park, Florida, and are proud to serve our neighbors in St. Augustine!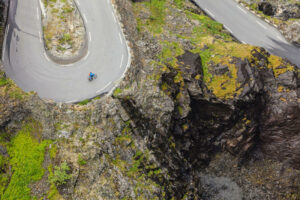 The Basics
How you corner really depends on what kind of bike you have. If you have a sport bike, or a racing bike, then you're going to be entering the corner at a high rate of speed and leaning it as far over as you can. These bikes are designed for the track, and they have weight ratios and design elements that allow for speed and aerodynamic flow that, for example, a cruiser bike just isn't designed to match.
Cruisers can't be leaned over as far as sport bikes can – their design usually features big fairings, pedals, and other gear that stick out too far from the body of the bike to allow for the kind of knee-dragging speed around corners that sport bikes can do.
Thus, before you take your bike out and hit those twisty canyon roads, it's important to get to know your bike, its design, its capabilities, its strengths and weaknesses. Once you have that knowledge, you'll have a better grip (no pun intended) on your bike's ability to hold a corner safely – and have fun doing it!
Look Before You Leap
Before you even get close enough to the corner to have to do anything with the bike, shift your gaze as far forward as you can. Look through the turn, all the way, taking in the full angle of the curve. This not only helps you see the angle of the turn so you can properly corner through it, but by looking through the turn, with your head upright and your eyes clear ahead, you help put your body in position to initiate the corner.
Countersteer
Motorcycles change direction by leaning, and that lean is accomplished through something called "countersteer." To countersteer into a turn, first press forward and slightly down on the handlebar on the side that you want to turn. For example, press the right handlebar to lean right, and the left handlebar to lean left. Once your bike starts to lean into the turn, relax your grip, and the bike should maintain the lean you've introduced through the turn.
Throttle
As soon as your bike is leaned into the turn, hit the throttle gently, and then gradually add power as you go through the turn. Pay close and careful attention to how much throttle you're using. Make sure you're riding at a speed you're comfortable with, and which will allow you to execute the corner safely. Too much power too quickly can put you in a ditch (or worse) faster than you can say "oh no, a ditch!" Too little power can also be a problem.
Straighten Out
Keep your eyes looking through the turn, toward the exit and the straight road ahead of you. Give yourself a little more throttle, gently apply pressure to the opposite handlebar to lift the bike out of its lean, and then carefully exit the turn. Don't get cocky – the exit of a corner is just as important as any other part of it, and if you get it wrong, you'll be in for a world of hurt.
The bottom line is that as long as you're smart, careful, and have your wits about you, then you should be able to take a corner safely, and have a lot of fun doing it. Don't ride above your skill level, wear proper gear, and get out there and ride all the great roads. And the next time you need something for your motorcycle, we'll be here at BMW Motorcycles of Jacksonville to help you out. Come see us!