Motorcycles are complex machines with many moving parts. Most of the time, they run without a hitch. But sometimes they experience a little bump in the road. The good news is many of the basic issues can be prevented or resolved by you! All you need is to be equipped with the right knowledge and tools and you can skip the trip to the mechanic. We gathered up some easy motorcycle maintenance you can tackle. For the bigger issues, bring your bike to BMW Motorcycles of Jacksonville. You'll find us in Jacksonville, Florida.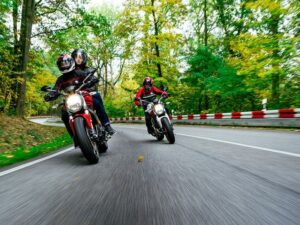 Tires
When your tires aren't up to par, you could experience a dangerous blowout. The first thing to check is your inflation levels with a tire pressure gauge. You'll get the most accurate reading if you check in the morning when the tires are cold. Too much inflation decreases the contact of your tires with the road. Too little inflation makes it hard for your tire to cope with all the forces pushing down on it.
The second step is to look at your tread. This gets worn down naturally as you ride, eventually getting too worn down to ride safely. The general rule is to replace tread when it reaches below 2/32nd-inch, but you can check the owner's manual for the exact suggestion. Tread can get worn down faster by improper tire inflation and poor tire alignment. If your tread is getting worn down too fast (or more so on one tire or the other), you might have one of these issues.
Brakes
Brakes are your line of defense in avoiding a collision. Before you head out, check the fluid levels of your front and rear tires. When they get low, top them off. Always test your brakes before you embark on a ride. Replace them once they get too worn down. If you hear any grinding, pulsating, or squeaking, bring them to a mechanic.
Oil
Check your oil with a dipstick. Place the dipstick in, wipe it off, put it in again, and check your oil level. There should be enough oil (top it up if there isn't). Then examine the color and consistency of the oil. If it is too sludgy or dark, you'll want to replace it. If you find any metallic shavings or powder in it, you engine might be grinding up material. You'll want to bring your bike to a mechanic if that's the case.
Lights
It's important that you can be seen by other motorists as well as see other motorists. Check each of your lights since they will burnout over time. When it comes time to replace them, think about opting for LED lighting. LED bulbs last longer and are brighter. They cost more upfront, but you recoup these costs as you won't need to replace them as often.
Chains, Shafts, and Belts
Each of these parts needs to be working well and well-lubricated for your motorcycle to run properly. Make sure the belts are adjusted right. If they are too tight, it could strain the material. If they are too loose, the belt could come loose.
We hope you found this guide helpful! Armed with the right knowledge, you can prevent or tackle a number of maintenance issues. But eventually you will run into a maintenance issue that is beyond your wheelhouse. When this happens, bring your bike over to BMW Motorcycles of Jacksonville. We can replace parts or conduct a motorcycle service. We also have a range of new and used motorcycles for sale if you are looking for a new ride. We proudly serve those in Jacksonville, Tallahassee, and Orlando, Florida.