Just like any other part of your bike, you need to keep your tires in tip top shape in order to avoid real problems like blowouts, spinouts, and general lack of control. You also need to be sure you have the right tires for your bike, and that might require some research. At BMW Motorcycles of Jacksonville, located in Orange Park, Florida, we've created this brief guide to help you understand what you need to know about your bike's tires. When you're ready to shop, or if you need new accessories or gear, please come visit our dealership! We're happy to serve our neighbors in Jacksonville and St. Augustine.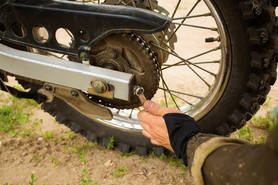 The Basics
Let's break down the parts of a tire. First, there's the tread, which is what grips the road and provides traction as you ride your bike. The sidewall is what's on the side of your tire, and it relates to the tire's height and aspect ratio. The sidewall provides handling and support. The edge of the tire, which grips the rim, is called the bead. The valve stem is what you use to inflate or deflate the tire. The rest of the tire's body is called the carcass.
If you're checking your tires for wear, first look at the tread, making sure there's plenty of tread left to grip the road. Your bike's manual should tell you when the tread is low enough that you need to replace the tire. Make sure the tire is properly inflated – again checking your bike's manual for the proper pressure, and check that there are no cracks or bulges on the sidewall. If your tire is over 10 years old or has too much damage or low tread, then it's time to replace it.
Replacing Your Tires
The type of tire you need to get will obviously depend on the type of motorcycle you have. Street bikes aren't going to have the same tires as off-road bikes, for example, and you wouldn't want to run off-road tires on your daily commute. Beyond these obvious examples, however, there are important distinctions that you'll need to know to be sure you're buying the right type of tire.
If your budget is tight, you might be tempted to look at used tires. However, while this instinct is understandable, we do not generally recommend buying a used tire. There are risks involved in buying used tires, including unseen damage that might lead to a blowout on the road, or the tire could just go flat much sooner than you'd think – so you haven't really saved money by buying used.
New tires will last you much longer, and you'll have the peace of mind that there's nothing hidden going on with them. They'll improve fuel efficiency and performance, and that'll save you money in the long run.
 In most cases, you'll be best off just replacing your tires with new tires of the same brand and size recommended by your manufacturer. However, you do have the freedom to choose the tires you want for the ride you're going for. If you have a hardy motorcycle that can go offroad, you might consider dual-sport tires. On the other hand, if you're a road warrior riding your bike on your commute, then you might look at commuter tires, which are made to optimize fuel efficiency on the highway.
Whatever you choose, make sure it's a tire that fits your bike, and that fits your riding style. Having the right tire for your bike is critical for maintaining control and having fun on the road. When you're ready to shop for tires, or you need new accessories or gear, or if you're in the market for a new bike, we'll be here for you. Come see us at BMW Motorcycles of Jacksonville!