Adding a windshield to your motorcycle can unleash your bike's full potential! This valuable upgrade can impact your ride in a variety of great ways. Keep reading to learn more about why you should get a motorcycle windshield. If you have questions or you want to buy a new bike, contact BMW Motorcycles of Jacksonville today. We are located in Orange Park, Florida and proudly serve Jacksonville and St. Augustine!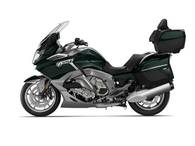 Why Upgrade?
You may be wondering why you should even consider buying a motorcycle windshield. There are plenty of benefits this upgrade will bring you! First, it will block out most of the wind that hits your face and body as you ride. This results in less wind fatigue which means you can ride for longer.
A motorcycle windshield also protects you from some of the harsh elements. It will reduce rain splatter and help keep your clothes dry. It will decrease the wind chill on colder days. A motorcycle windshield will make it easier to stay on the road during those less than ideal conditions.
One of the most practical reasons to invest in this upgrade for your bike is it will keep kicked up debris and bugs from splattering on you!
Windshield Types
Now that you're ready to buy a motorcycle windshield, you need to know what your options are. Your first major decision is whether you want a permanent or removable model. A permanent one means you can have it installed once and you never have to worry about it again. This is a good choice if you know exactly what you want for your bike. On the other hand, a removable option makes it easy to pop off your windshield and transport or store it.
Next, it's time to choose what kind of material you prefer. The most common and affordable choice is acrylic. This option will retain its shine over time and won't yellow. However, acrylic will scratch or shatter more easily. Your other choice is polycarbonate. This is a sturdier material so it's harder to chip or shatter. However, polycarbonate is more expensive and it will yellow over time.
Your last major decision is whether or not you want a motorcycle windshield with tint. Tint will help you see better in high glare situations. This will help improve your visibility, but make sure to check your local laws since there could be some restrictions.
Are you ready to get your bike a new windshield? Call BMW Motorcycles of Jacksonville today! We are here to answer any questions you still have. You can reach us at our Orange Park, Florida location. We are proud to serve those in Jacksonville and St. Augustine too. We look forward to helping you get on the road on the perfect bike!