Joining a motorcycle club can be a big commitment, so you'll want to make sure you've taken all the reasons to join one into account. This will help you to determine whether a motorcycle club is where you belong. A number of stereotypes have formed around motorcycle clubs that we wish to dispel because no two motorcycle clubs are alike.
Here at BMW Motorcycles of Jacksonville in Orange Park, Florida, we have plenty of knowledge on what it means to join a motorcycle club, so we've provided this list of reasons why joining one might be a good idea. Read on to learn more and then when you're ready, you can hop on your BMW touring bike to take a ride down to your local club and sign up!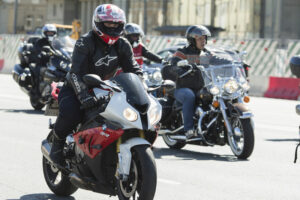 Safety in Numbers
Regardless of whether you're in a motorcycle club or not, riding in a group is still a safer way to ride than going solo. If something happens on the road like a total breakdown of your motorcycle, you'll have people around you who have your back and can help you stay safe so you're not stranded. This will give you an additional feeling of security when you ride since you won't have to rely on the kindness of strangers to get where you need to go or repair your bike. Your club will protect you and view you as one of their own whether you're meeting up in town or out on a long ride.
Become a Better Rider
One great benefit of becoming part of a motorcycle club is that it can help you to become a better rider. No matter whether you join the club as a relative novice or an expert, you'll always find room to improve your skills. Other club members can share tips and tricks with you when it comes to trying new techniques. Keep an open mind when you join a club and be willing to listen to and learn from other members. While everyone loves their specific motorcycle, it's still good to learn more about other styles available and what they might have to offer. You might even pick up something you wouldn't have learned otherwise. You'll also be able to get mechanical questions or issues with your bike addressed by knowledgeable members, and you can share your own knowledge with others. Who doesn't want to help others out and be helped in return?
Sense of Belonging
Being a member of a motorcycle club allows you to feel like you're part of something more than yourself. The feeling of camaraderie that comes with joining a motorcycle club can be extremely rewarding. You become part of a loyal family that you can rely on when you need them, and in turn, they can rely on you. Mutual respect, trust and dedication are some of the values that are often shared in a friendly motorcycle club.
Your partners in motorcycle riding can share in your life's achievements, joys and sorrows. This is extremely beneficial for riders who may not have a family they can turn to; having a club developed around a shared passion can foster a familial environment that serves as a welcome comfort for its members. In most motorcycle clubs, every member has a voice in what happens. Votes are conducted regarding important matters during meetings, where ideas, concerns and suggestions are also discussed.
Now you know some of the benefits of joining a motorcycle club. Ready to get on your BMW motorcycle and pay a visit to your local chapter? If you're still in search of a great BMW touring motorcycle, visit our dealership in Orange Park. We carry a huge selection of used BMW motorcycles for sale. BMW Motorcycles of Jacksonville also serves the cities of Gainesville and Tallahassee, Florida.