While riding your motorcycle in the rain may not be at the top of your bucket list, it's still helpful to be prepared for the occasion. After all, the weather can be unpredictable in Florida. You never know when a rainstorm is going to hit, so you want to be ready to handle it. BMW Motorcycles of Jacksonville has prepared this guide to help you get started. Read on for more!
If you're still shopping around for the perfect bike, swing by our dealership. We have a great selection of motorcycles for sale near Jacksonville, FL. Whether you're searching for Ducati motorcycles or BMW motorcycles, we've got options for you.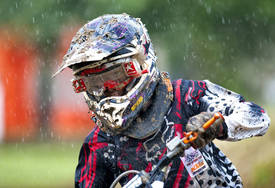 Prepare Your Motorcycle
The first thing you'll want to do is ensure your motorcycle is ready to ride in the rain. Regardless of what type of bike you own, you'll need to prepare it for this type of riding so you can avoid having issues on the road. You'll be happy you took care of this in the comfort of your driveway or garage rather than out in the freezing rain on the side of the road.
Start by examining your tires to confirm they have enough tread to give you traction on wet roads. You'll also want to make sure they're inflated to the recommended psi level found in your owner's manual. Next, check the engine oil and brake fluids. Test the throttle, clutch, and brakes for functionality. Take a look at the lights and confirm that they're working, bright, and visible. If you run into any problems, address them before you take your motorcycle for a ride.
Choose the Right Gear
Next, you'll need to protect your body. You'll use the same gear you wear on a regular basis, but you'll want to adapt it to the unique circumstances of riding in the rain. Remember that water and leather don't mix well.
Consider buying a one-piece rain suit that covers your clothing and shields them from the rain. These suits are designed to give you seamless protection, so your clothes underneath will stay dry. This option might be a bit bulky and pricey, but it's going to provide you with the level of protection you need when riding your motorcycle in the rain. Another option you can consider is a waterproof riding jacket paired with waterproof pants.
Adjust Your Riding
One of the key components to safely riding your motorcycle in the rain is to adjust it to the road conditions you'll be facing. Slippery, wet roads will require you to use various defensive driving techniques. Leave plenty of room between yourself and other motorists. If someone comes to a sudden stop, you want to have enough time to slow down and avoid an accident. You should take turns and lane changes slower when it's raining.
Watch for Hazards
No matter how prepared you might be for the ride, it's still important to be alert. Do your best to watch for hazards on the road, like low-traction obstacles, for example. Steel plates in construction areas can be extremely dangerous when the roads are slick. There will be hardly any traction, so avoid quick and sudden changes in direction or speed when riding over steel plates. Another hazard to be aware of is intersections. When cars idle, they may drip oil onto the road. When you mix this with rain it can be a fatal combination for motorcycle riders. If you're unable to avoid riding over a low-traction obstacle, you'll need to travel at a low speed and stay extremely focused.
You're officially ready to ride in the rain. If you have lingering questions or if you'd like to browse our BMW and Ducati motorcycles for sale in Orange Park, FL, visit our dealership. BMW Motorcycles of Jacksonville also serves those in St. Augustine.