There's nothing quite like hitting the open road on your motorcycle and enjoying the wind in your face and the asphalt rushing by your feet. Whether your trip lasts an hour or a week, going out for a ride is the perfect way to unwind from your busy schedule.
You know what's not a perfect way to unwind? Roadside breakdowns. Maintenance emergencies are always stressful, but when you're exposed like you are on a motorcycle, they can be particularly anxiety-inducing. That's why BMW Motorcycles of Jacksonville has provided some tips to help you prepare now for a future emergency. Check them out and contact us for more information on how our service department can help you avoid these situations in the future. You'll find us in Orange Park, Florida, serving Jacksonville and St. Augustine.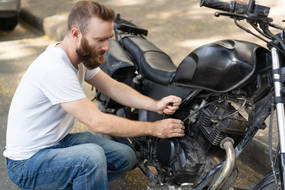 Prevention is Key
Of course, it's better to avoid a situation like this entirely. This will involve performing regular maintenance for your motorcycle. Review your owner's manual to understand what this regular maintenance should look like and how often it should happen. This will likely include oil changes, belt and chain tightening, and tire checks, either by yourself or a professional.
You'll also want to inspect your motorcycle before each ride. If you suspect something isn't running properly, or you spot damage and excessive wear, skip the trip around town and head to your trusted service department.
Proper Preparation is Also Key
Even with regular maintenance, you'll want to be prepared for emergency situations. If you have some basic maintenance knowledge and skills, make sure you have all the tools you'll need to perform repairs. This may include a basic repair kit that comes with:
Wrenches
Screwdrivers
Pliers
Tire patches
Portable air compressor
Fuel siphon
Remember that you don't have a lot of storage space on a motorcycle, so choose your tools wisely.
Another key part of preparation is having someone you can call if the repair can't be made on the road. This can either be a friend with the towing means to get your bike off the road, or a roadside assistance company you've signed up with.
What to Do When it Happens
Even the most experienced riders have their bad days. Here's what to do if your bike quits on you during the ride:
Pull Off to a Safe Location
First things first, you must get somewhere safe. Get away from traffic and passing cars as much as possible. Pull off to the shoulder, roll the bike up the exit ramp, and pull into a parking lot. Turn on your hazards and, if you have them, set out flares or cones to keep you safe.
Analyze the Situation
Next, you'll need to try and figure out what's wrong. It could be something as simple as a flat tire, or there could be a break deep in the engine that's a little harder to spot. Gathering as much information as you can will help you ultimately create a game plan using one of the following options:
Fixing
If you can, it can be cheaper and faster to fix the problem yourself. If you're confident you know what the issue is and that you have the tools and skills to fix it, this might be the best option. Just keep in mind that this is likely a temporary fix. Most roadside repairs will still end with a visit to a service department. The difference is, you'll be able to ride there.
Searching/Calling for Help
If you can't identify the problem, or if you don't have the means to fix it, you'll need to find help. This may involve calling that friend or roadside assistance company for help. If you're out in the middle of nowhere with no cell service, you might need to walk to the nearest town or at least until you can make a reliable phone call.
With the right plan, you can feel more confident on the road knowing you're ready for whatever life throws at you. Of course, if you're still looking for a trusted service department you can contact for regular checks, or if you're still looking for the right motorcycle for sale, talk to our experienced and friendly associates here at BMW Motorcycles of Jacksonville. We're happy to help you with all your motorcycle needs, so contact us today, whether you're from Orange Park, Jacksonville, or St. Augustine, Florida.