Interested in owning a bike or just bought one? Great! A motorcycle is an economical and enjoyable way to get around, but if you've never owned one before, there's a lot you may not be aware of. Being versed in motorcycle safety is essential to your well-being and that of others on the road around you. So whether you've got a Ducati or a BMW motorcycle, it's important that you learn as much as you can before you start riding.
BMW Motorcycles of Jacksonville is proud to be your Florida motorcycle dealer, located in Orange Park. To help you out with acclimating to your brand-new BMW motorcycle, here are some of our best first-timer tips.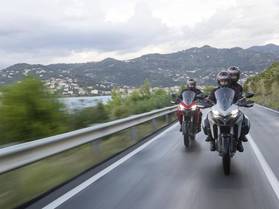 Attend a Motorcycling Class
One of the best ways to prepare yourself and learn about motorcycles is to attend a motorcycle class. Learning how to ride the bike from experienced riders will teach you a great deal that you can't glean when you're on your own. Riding a motorcycle is much different than driving a car or riding a bike, even though it's similar in some ways to both. The basic classes may even have a beginner bike for you to practice on so that your instructor can demonstrate how the brakes, throttle, clutch and other controls function.
Motorcycling classes come in different levels to suit different experience levels, so once you've graduated from a beginner program, you can advance your education to the intermediate or advanced levels to learn even more from the pros.
Get In Some Practice
Just like with everything else, from painting to scuba-diving, you'll only get better at riding your motorcycle if you practice doing so at every possible opportunity. It's even better if you have a more experienced motorcyclist at your side to help you learn! Take your bike to an empty lot the first time you ride it, free of distractions or obstacles, so that you can gain confidence with turning, braking and getting up to speed.
You can then ride through city streets and attempt the highway once you've gained some experience, although you're going to need to be cautious and extremely vigilant once you get there. Distracted drivers present a constant threat to your safety, so you've got to be safer than they are to prevent an incident. The more practice you get before you hit the interstate, the better.
Ride Alone At First
You might have a significant other, best friend or family member who can't wait to ride on the back of your bike with you. But as a beginner, you shouldn't let them. It's all too easy to become distracted and to struggle with the weight and bulk of an additional passenger, so ride alone for the first several weeks or months of ownership before you take someone else for a spin.
Gear Up For Safety
Riding your motorcycle also means investing in and wearing properly-fitting gear for your own safety. A helmet with a full face mask or a pair of goggles for eye protection is paramount. A sturdy riding jacket and riding pants or a one-piece riding suit will protect you from wind, scrapes and grime as you ride. Gloves with good grip will help you keep hold of the handlebars, while durable ankle boots with sufficient tread will help you maintain contact with the street when you're stopped at a light.
Searching for motorcycles for sale near Jacksonville, FL? Visit our dealership in Orange Park, where we carry a huge selection of new and used BMW and Ducati motorcycles for sale. BMW Motorcycles of Jacksonville proudly serves our customers in nearby St. Augustine, Florida.