Many motorcyclists will describe their perfect riding day as blue skies and sunshine, complete with a nice summer breeze. You're bound to see more people out riding now that summer is upon us. As nice as the change of seasons might be, it is still important to dress for the weather. There are several factors that could turn a beautiful riding day into a bad one, such as heat stroke, dehydration, and exhaustion. If you take the time to follow a few guidelines for warm weather riding, you can easily avoid these mishaps.
We have created a brief guide to help you get ready for riding your motorcycle during the summer. For everything related to bikes, get in touch with us at BMW Motorcycles of Jacksonville in Orange Park, Florida!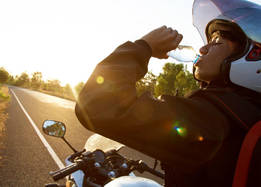 Dressing for the Heat
As the summer heat sets in, it can be tempting to gear up with shorts and a T-shirt in hopes of keeping cool. However, when you're riding, you should steer clear of this temptation. You need to make a habit of wearing long pants and sleeves for general road safety. Your skin needs the protection that full-length clothing provides. Investing in a ventilated jacket will produce more airflow, as well as protect you from the sun's rays and other hazards on the road. It also helps provide more protection in the event that you fall.
In order to keep yourself as cool as possible, ditch the dark colors and heavy leather when it's hot outside. Instead, you should opt for light-colored, breathable fabrics, like cotton and linen. One helpful accessory to wear is the bandana. Anyone who rides bikes can benefit from this small, but useful, item. All you need to do is wrap it around your head. It'll collect any sweat to keep it out of your eyes while you ride. Another option is to get it wet and wrap it around your neck for a nice, cooling sensation.
You'll want to apply sunscreen to any areas of exposed skin, like the back of your neck, when you're riding. UV light protection is also a necessity, so don't forget your tinted helmet, or wear sunglasses.
Staying Hydrated
One of the key things to stay aware of is hydration. Riding motorcycles is a physically draining activity. You lean to turn and exert energy to maintain the correct posture. You're bound to feel dehydrated because of the sweating. It's easy to forget about hydrating while you're on your motorcycle, so investing in a hands-free backpack hydration system is a good idea.
You may not realize it but you're also losing salt and electrolytes when you sweat throughout the ride, and this leads to dehydration. It would be smart to pack some salty snacks and sports drinks for the ride. This way, you'll replenish what you lost from sweating and further avoid chances of dehydration.
Common Sense Riding Practices
There are several ways to make sure you're being safe while riding in the warm weather, and some of them are simply common sense! You'll want to do your best to avoid heat exhaustion, so choose your riding times wisely. Mid-afternoon is generally the hottest time of day, so you'll want to ride before noon or once the sun starts setting. If the temperature goes above 100 degrees Fahrenheit, it's best to stay home.
When you're riding in the heat, stop frequently and look for rest stops or parks with plenty of shade, so that both you and your motorcycle can cool off. You can use your breaks to enjoy the surrounding scenery. For more ventilation, you can put down your bike's windscreen if it's adjustable.
At BMW Motorcycles of Jacksonville, we always encourage our riders to enjoy the beautiful weather on their bikes, but we also want to make sure they're doing so safely. For more information on riding your motorcycle in summer, or to check out motorcycles for sale, you are welcome to contact us at our dealership in Orange Park, FL. Our friendly staff will be happy to help you. We proudly serve all those in Jacksonville and St. Augustine.