Warm weather and clear skies means peak motorcycle season is here. You're probably itching to hit the road ASAP, but that extra-nice weather might mean taking some steps to protecting yourself from the chance of fatigue and dehydration. Even the toughest riders can find themselves unprepared for the effects of a blazing summer sun. Dressing for warm weather can be just as important as suiting up for the cold bite of winter. Dehydration, heat stroke, and exhaustion are real issues, but fortunately they are easily avoided with a bit of planning.
At BMW Motorcycles of Jacksonville, we know how excited riders are to put the doom and gloom of winter behind and head down a sun-baked freeway toward adventure. That's why we've put together this short guide with some tips to keeping cool. Read on for more information or head into our showroom in Orange Park, Florida where we proudly serve Jacksonville, Gainesville, and Tallahassee.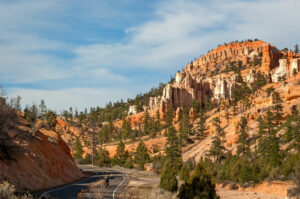 Dress to Beat the Heat
Our instincts are to shed layers when the weather turns warm, but this doesn't work on a motorcycle. You still need to be dressed head to toe in your protective gear, including boots, pants, jacket, and helmet. That's not the most conducive to cooling off, but that's ok, because motorcycle gear can be made to help keep cool. Stick to cooler colors that are better at reflecting light and fabric that's more breathable like cotton or linen. A ventilated riding jacket can both protect you from road hazards and encourage cooling air flow, and a bandana worn under your helmet can keep sweat out of your eyes.
UV light protection is another important point when dealing with summer sun. Put some sunscreen on exposed skin, like the back of your neck. Sunglasses can be a great boon as well, especially if your helmet doesn't have UV protection.
Staying Hydrated
When it's hot out, dehydration will hit you faster than you might think. Riders will experience fuzzy headedness and a loss of focus if they can't replace lost fluids. This impairment can lead to an accident, so it's important to keep some water bottles in your pack to drink. If you're going through several bottles at a time or you're riding often enough to roll your eyes at wasting all that plastic, consider investing in a wearable hydration system for hands-free hydration from a backpack or similar piece of apparel.
A tip for staying cool: dip a T-shirt or bandana in cool water and wear these on the road to enjoy the breeze from the evaporation. Tying the wet bandana at the base of your neck can cool you down quickly.
Our bodies also lose a lot of important chemicals due to sweat, like salt and electrolytes. As any sports fan knows, those lost chemicals can drastically hurt rider performance. Eat some snacks or a sports drink that provides vitamins and minerals in additional to replacing some of the salt.
Using Common Sense
Nothing beats using your head to figure out the best times to ride. Don't ride during the hottest parts of the day, which is generally mid-afternoon. Get in a ride before noon or as the sun sets so you'll be much cooler. Make sure to stop frequently to allow both you and your bike time to cool off. A hot bike means a hot rider, so giving yours a well-deserved rest can help you both out. Use your breaks to check out the scenery around you, rest in the shade and drink water. If your bike's windscreen is adjustable, you can put it down to get more ventilation.
Get out there and enjoy the sun and clear skies during the warm months, but remember to take precautions to keep cool, hydrated, and focused on the road. Ready to check out some great new and used motorcycles for yourself? Then head into BMW Motorcycles of Jacksonville. We proudly serve Jacksonville, Gainesville, and Tallahassee, Florida. Come by today and talk with our team of courteous professionals who'll answer all your questions and help you find the motorcycle of your dreams!