If you dream of riding on open roads for hours on end, a touring motorcycle is the bike for you. These machines are built for logging miles and miles and traveling to new cities and states. It's no surprise that touring motorcycles are so popular. Keep reading to learn more, then call BMW Motorcycles of Jacksonville in Orange Park, Florida near Jacksonville and St. Augustine!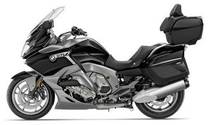 Comfort
Touring motorcycles are designed for long rides, which means comfort is at the forefront. Air deflectors will bounce away hot engine heat from your legs. Windshields will protect you from wind and debris. Not to mention the riding position is ergonomic in design. These bikes may not boast the attitude that low seated, forward riding positions do, but they will keep you comfortable and in control for hours on end. You'll definitely be thankful your legs and back aren't begging you to stop!
Storage
Long trips require supplies and those supplies need to be stored somewhere. You'll need space for clothes, water, food, a first aid kit, toiletries, a mini tool kit, and more. Touring motorcycles come with plenty of storage via saddlebags, a top box, under seat storage, and luggage racks. If you still need more space, you can upgrade your vehicle with more.
Passengers
Another benefit of this type of motorcycle is the space. Most touring models can fit another passenger along for the ride. The seat is long enough for both of you to sit comfortably. The engine and suspension system are built to handle the extra weight without losing performance. You can bring a travel buddy along and instantly make your trip even more enjoyable!
Ideal Rider
Any type of rider can enjoy a touring motorcycle thanks to the ample comfort features. But two types of riders specifically will enjoy the tailored features. The first is riders who like taking long-distance trips. If you love weekend getaways that require hours and hours of riding, you'll want to opt for a touring bike. The second is riders who commute every day for work. You'll be able to pack everything you need for the day and you'll arrive at work free of cramped muscles or aching joints.
Does a touring motorcycle sound like the perfect bike for you? Call BMW Motorcycles of Jacksonville and we'll take you through our great selection of models. We are located in Orange Park, Florida and are proud to serve Jacksonville and St. Augustine. When you need a stylish and powerful vehicle that's going to get you where you need to be, it's time to give us a call. We can't wait to help you ride away on your ideal bike!